It's the middle of Summer, we're far from
Christmas
, but I would like to take this occasion to take a look at another
Jingle Belle
comic book.
And this one is a bit more in-retrospective and takes a look at Jingle's past year, how appropriate!
For more of Jingle Belle's shenanigans check this other review!
Comic title: Jingle Belle: Winter Wingding
Written by
Paul Dini, Robbie Busch & StephenDeStefano
Illustrated by
Spike Brandt and Tony Cervone, StephenDeStefano
Published by
Oni Press
From
2002
Lineup
Jingle Belle
Format:
One-shot
Jingle Belle Winter Wingding
(Winter 2002).
Here's Jingle Belle once again!
Winter Wingding
is yet another annual Christmas celebration. This one from November 2002. But unlike the December issues, this one wasn't collected in
Cool Yule
, nor any other later Trade Paperbacks.
The main feature is from
Paul Dini
, while the second back-up feature comes from artist and co-creator
Stephen DeStefano
.
Christmas is coming!
So
Mrs. Claus
sits down with a box of bourbon balls and starts writing her usual holiday letter.
But the more she thinks of the past year gone by, the more mischief from her young daughter Jingle Belle she remembers..
This girl's gone wild all year long. From that time they took a little abroad to London, to that time Jing represented the
North Pole
at the Winter Game. It's trouble after trouble.
Like when Jingle Belle decided to go Reality TV on
Santa Claus
! Or that other time when she had some good intentions at first and started an all-girl band with her friends
Tashi
,
Polly Green
and Texas Sheriff
Ida Red
.. only to face an angry crow once they found out they didn't even know how to play music and spent most time on their band's name alone!
While Mrs. Claus was getting angrier writing her letter, Jingle was actually working on her Christmas present...
Paul Dini is clearly having fun with his characters. They're so "young" in terms of story, but already clearly defined. His Santa is a well intentioned guy who is having a lot of problems keeping his young teenage girl in check. And Jing is just pure fun!
The art comes from Warner Bros cartoonists
Spike Brandt
and
Tony Cervone
, who worked on
Animaniacs
and are co-creators of the
Looney Tunes Show
and
Duck Dodgers
. Their style is wonderfully cartoony while Jing remains smexy and a bit pin-up-
ysh
(which are the roots of the character after all). When it changes from Brandt to Cervone it shows a little in the characters, but it never detracts from the story.
The second story was written by
Robbie Busch
& StephenDeStefano. This 8-page bonus tale is a fun little typical Jingle Belle story in which Santa's trying to get ready for his "post-thanksgiving sleigh run" but Jing can decide on what to wear. Meanwhile the annoying elf
Rusty
is trying to take over Jingle's place...
The story comes packaged with this lovely cover by Chynna Clugston-Major I could
n't not
mention. It's fun, kinda sexy and perfectly in tone of these fun entertaining stories! (and it's the only part of the book that's in color)

Overall, another slam dunk for Paul Dini!
It's really a shame this' never been collected. But I had to review it anyway!
It's only two stories-long but pretty fun. Timeless fun!
I really recommend these stories for everybody, comic book reader/fan or not. Children and adults alike.
I give it: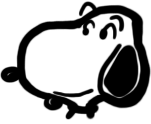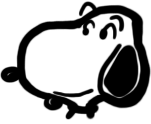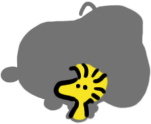 2.5 / 3 Snoopys
!