Time for another All-Age comic!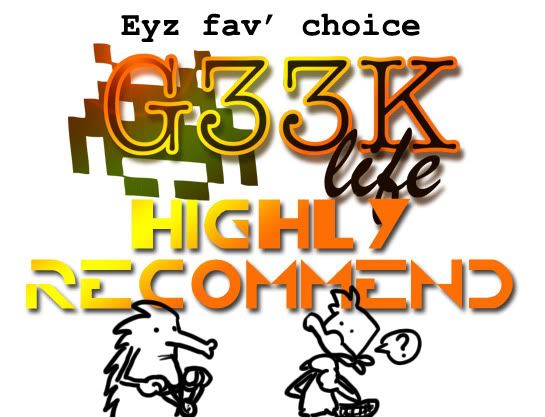 Another favorite classic of mine, Chris Giarrusso's very own "creator-owned" series!
Aw Yeah, Comics!!
Following his debut work on
Mini Marvels
back in 1999 - his own kid-take on the Marvel Universe,
Chris Giarrusso
was able to continue exploring similar kid superheroes at
Image Comics
.
But instead of being confined by Marvel Comics' characters, he decided to use his own creations he had been doodling for years.
Thus was born
G-Man
!
Named after his nickname back in High School, it's a similar All-Ages fun lighthearted take on superheroes, inspired by the old classic newspaper comic strips. It has that similar innocence very reminiscent of
Charles Schulz
'
Peanuts
comic strips.
It originally ran has one-pages back-up feature in Savage Dragon comics (who actually gets a couple cameo in the later stories) before being finally spin-off into its own series.
Mikey G
always wanted to be a superhero. One day he found a magic cape which gave him the ability to fly, enhanced strength and made him invulnerable... as long as he's wearing it!
His brother Dave G took a piece from his cape and made himself a belt, hence turning him into "
Great Man
"!
The G brothers now have adventures along their other super-powered friends. Saving the day and having a good time between friends. Oh, and sometimes their friend the Wizard
Glendolf
makes them some pizza.
If G-Man was more or less inspired by his own memories and imagination as a kid (superheroes can fly because of their cape, right?), Great Man was his take on his big brother (while his third brother was finally introduced in the last book).

Comic title: G-Man Volume 1: Learning To Fly
Written & illustrated by
Chris Giarrusso
Format:
Digest-sized trade Paperback collecting the
G-MAN
one-shot
,
the
G-Man Christmas
story
,
the complete collection of
Comic Bits
comic strips
and the
Mean Brother/Idiot Brother
comic strips.
Mikey G always wanted some superpowers to play along his friends. One day he finally unlocked powers of his own thanks to his family's magic blanket!
Now G-Man is the new kid hero on the block! We get to meet some of his friends:
Tan Man
,
Suntrooper
,
Billy Demon
and
the Spark
as they embark on their very first adventure!
They have some trouble with
Kid Thunder
, the son of the city's local superhero
Captain Thunderman
.
His big brother steals a piece of the cape... and now is out to cause some trouble!
This first volume also collects the origin of G-Man, a
Christmas
adventure and all of the original G-Man comic strips that started it all!
Overall:
What a fine collection!
Recommended
for anyone in search of a change from what comics seem to offer these days!
Well written and appropriate for everyone. G-Man is a pretty great comic! Featuring great art, Giarrusso's artwork is so fun to look at!
G-Man is a fun comics that any kids or adults might enjoy!
The character was originally introduced in Chris Giarrusso's "
Comic Bits
" at the end of Savage Dragon comics. They're all reprinted here.
This first edition went along Marvel's reprints of Mini Marvels so well... but it was later reprinted in a new edition that is similar to the later titles below.
This first volume contains mostly short one-page or comic strip gags and then some early full stories of G-Man.
I give this one a: 2.5 / 3 Score!
Comic title: G-Man Volume 2: Cape Crisis
Written & illustrated by
Chris Giarrusso
Format:
Digest-sized trade Paperback collecting
G-Man: Cape Crisis (2009) #1-5
.
Since everyone discovered his powers came from his cape made from his family's magic blanket, G-Man decided to share some of his own powers with his friends...
Great Man decided to make some money off selling pieces of the cape to "normal" citizens...
And now our young heroes might just find themselves at the heart of a big
Cape Crisis
!
G-Man's very first full feature-length story is an epic tale full of shenaningans, hilarious dialogues and humorous take on the whole superhero genre. Clever and fun!
The extra pieces of cape fall in the wrong hands and now things went quickly out of control!
Will G-Man and his super-friends be able to get the cape from so many new bad guys!? Bad guys with the very same powers as G-Man!?
But that's not all! They have one more problem in their hands when their friend the Wizard Glendolf Williams has some bad news for the G brothers... It seems the cape was corrupted with bad magic. And if G-Man and Great Man might end up losing their powers, that's far from the worst that might happen. The dangerous balance of magic in the world might be thrown off by this sudden rise of super-powered folks!
They need to recover the fragments ASAP!
Overall:
Another fun comic anyone can enjoy, with plenty of humor, great lovely art as always.
All in all, a fun read!
Highly recommended
!
This 2nd volume shows what G-Man's really capable of!
The first volume only collected several short stories and comic strips, but this time around in G-Man's first mini-series Chris Giarrusso here gets to expand his whole universe and play around with all of these fun colorful characters! And it's really fun and unique!
Older readers will have fun no doubt with the play on all these superheroes gimmicks and clichés, while younger readers can enjoy a perfectly fine and enjoyable read!
I give this one a: 3 / 3 Score!
Comic title: G-Man Volume 3: Coming Home
Written & illustrated by
Chris Giarrusso
Format:
Digest-sized trade Paperback collecting
G-Man: Coming Home (2012) #1-5
.
This third volume sees G-Man and Great Man finally returned back home just in time for a lunch at Wizard Glendolf 's.
Following their adventure in Cape Crisis that found our young heroes going through an
Herculean
task in another realm, now they find out they've actually been missing for months!
Their sudden disappearance took the city by surprise, and people have been missed them! The news have been wondering what happened to their so-called "fallen heroes" thought to be dead.
On their return they only find out a giant robot wrecking havoc in the city and some demon hunters annoying our other young superheroes.
But now the "
Suntrooper Space Force
" which their friend Suntrooper is part of is after them since they find out the powers coming from their magic cape/belt can mess up with their space technology!
But worry not, the G-Brothers will have some help in the form of the league of the adult superheroes, the
Thunderfriends
!
And the
Color Guardians
are also here to help G-Man and Great Man
Coming Home
!
Overall:
A lot of humor and great well-thought characters in this final G-Man story (for now?).
Also introducing the arrival of their baby brother! But not without having the G-brothers pass through some tests beforehand...
As always, fantastic art!
This volume follows upon the series and continues to expand it and built upon this little fictional universe. Picking up where the previous volume left off.
All in all, it's a fun adventure.
We get to meet plenty of new super heroes.
One of best series nowadays. Smart, funny and well done.
Highly Recommended
!
I give this one a: 3 / 3 Score!
And that's it for G-Man - for now!
In several ways, I found this G-Man series to be an improvement upon Chris Giarrusso's already great previous title
Mini Marvels
- which was no easy task to outdo!
So far these are the only series he's done, mostly working on some alternate "Mini Marvels"-style covers for other Image Comics series (
Robert Kirkman
's
Walking Dead
,
Invincible
,..)
He also illustrated a few pages of the young readers novels
The Amazing Adventures of Nate Banks
(4 books!).
Hopefully he will get to explore G-Man and bring him back in more stories, we really need more fun light-hearted titles like this around.
You can check out news, information and more on
G-Man's official website over here
. I'm sure he would love to see G-Man expanded into other mediums, cartoons, movies, video games... Sky's the limit! In the meantime you can check out the "games" section on the website to play the mini-games his brother made, retro
8-bit
style flash games!
That's all for this time's Quickies!