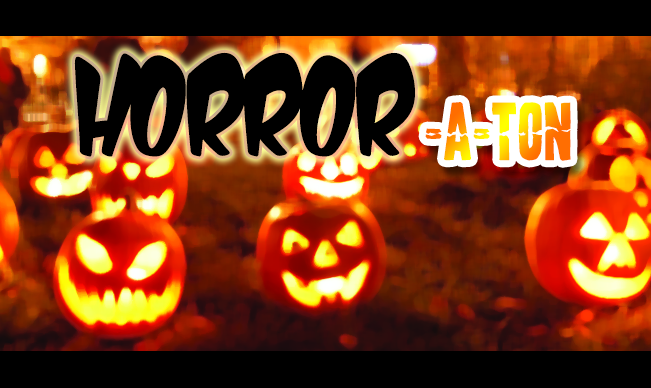 For today's review, I would like to take the opportunity this Halloween to finally get around reviewing the rest of this series!
The monsters come out at night to hack and slash in these HORRIFIC reviews!
Here's a cult favorite of mine!
Hack/Slash
is a horror comic book series created by artist/writer
Tim Seeley
.
It was originally published independently at
Devil's Due Publishing
, but due to some problems between the author and the publisher (which hadn't paid Seeley in a long while - amongst many other issues) Tim Seeley left the company and found a new home for his series at
Image Comics
afterwards.
These reviews here are for this first part of the series at DDP.
Not only is Hack/Slash a big love letter/tribute to the whole Slasher flick genre but its rapid and impressive success was also responsible for bringing back the horror genre to the comic book medium. (which prompted several many new horror titles at various publishers, such as those above I already reviewed in the past)
In a genre mostly oversaturated by mostly male giant spandex-wearing bodybuilding-superheroes, it was a nice change of pace and a welcome addition to pop culture icons.
The series basically revolves around this goth girl
Cassie Hack
who survived what is known as a supernatural "slasher killer"... and instead of either moving on and ending up the victim in an eventual sequel, decided to take the matter into her own hands.
And turned from last girl victim/horror survivor into... a Slasher Hunter!
Now driving all over the country after one bogeyman legend to another, with her companion
Vlad
the "Meatman Killer" and her trusty
"KISS IT"-trademarked
nailed baseball bat
, Cassie tries to put a stop to every other monster and creature out there. Preventing any other victims to go through the same stuff she did.

Comic title: Hack/Slash Volume 1: First Cut
Written by
Tim Seeley
Art by
Tim Seeley, Stefano Caselli & Federica Manfredi
Format:
Omnibus-sized trade Paperback collecting the mini-series & one-shots
Hack/Slash: Euthanized, Hack/Slash: Girls Gone Dead, Hack/Slash: Comic Book Carnage.
[
Book already reviewed here
]
Overall:
Like I wrote before, it's a pretty fun stories.
It opens with a bug and runs amok around several horror films clichés.
The omnibus I have collects the first two trades. It also adds the previously uncollected crossover
Hack/Slash Vs. Evil Ernie
. I'm not a super-fan of Evil Ernie, but it was a nice introduction to the character and a fun issue.
If you like horror stories, slasher flicks, indie comics or just want to read something different from all the usual mainsteam superhero comics.
I give this one a: 2.5 / 3 Score!
Comic title: Hack/Slash Volume 2: Death By Sequel
Written by
Tim Seeley
Art by
Tim Seeley, Nate Bellegarde, Dave Crosland, Mark Englert, Andy Kuhn & Joe Largent
Format:
Omnibus-sized trade Paperback collecting the mini-series & one-shots
Hack/Slash: The Land of Lost Toys #1–3, Hack/Slash: Trailers, Hack/Slash: Slice Hard Prequel, Hack/Slash: Slice Hard.
[
Book already reviewed here
]
Overall:
This second volume was collected in the first Omnibus - which is the release I have of this book.
Strangely the omnibus also features the
Hack/Slash Vs. Chucky
issue, which was originally collected in the following 3rd volume below.
The series is a great homage to the genre. Even if you're not that familiar or a fan of horror, chances are - it might introduce you to horror/slasher flicks in turn!
Not much to add otherwise.
I give this one a: 2.5 / 3 Score!
Comic title: Hack/Slash Volume 3: Friday the 31st
Written by
Tim Seeley
Art by
Tim Seeley, Matt Merhoff & Emily Stone
Format:
Trade Paperback collecting the one-shot
Hack/Slash Vs. Chucky
and issues #1-4 of the first
Hack/Slash
series.
[
Book already reviewed here
]
Overall:
Another solid run from Tim Seeley's Hack Slash!
The story is only getting started with these first issues.
The crossover the iconic
Chucky
from the
Child's Play
series marked the first official slasher crossover (previous slashers were based on classic monsters but with custom makeovers).
Anyway, recommended book for any horror fans and non-fans alike!
I give this one a: 2.5 / 3 Score!
Comic title: Hack/Slash Volume 4:Revenge of the Return Part IV
Written by
Tim Seeley
Art by
Matt Merhoff & Emily Stone
Format:
Trade Paperback collecting issues #5–10 of the first
Hack/Slash
series.
This volume opens with the government having retrieved the body of
Emily Cristy
aka a previous "Ms. America".
The lab scientists there hope to understand how "
revenants
" (how they call slashers) work so they can weaponize it. Guess what? She escapes! Killing and stealing people's skin to heal herself back.
Vlad was having some problems sleeping in the van, he has some trouble breathing that's partially why he wears a mask. Cassie ends up having to pawn some old stuff from previous kills for some cash.
Meanwhile
Chris
and
Elisa
other slasher-survivor characters we met in previous stories are starting to live together. And they try to help our slasher-duo as best as they can from home.
Next we have the
Archie Comics
parody special!
Taking place in the little town of
Haverhill
, Cassie and Vlad hear about the return of
Father Wrath
. It's a follow up to one of the first original slashers they killed.
After that the story take them to the Massachusetts. They've heard about some killings.
Cassie is spending a lot of time on the phone with the girl
Georgia
whom she has some feeligns for, Vlad's not too happy about it.
Speaking of which, they discover a lesbian cult (you read that right!) at the local College. Cassie has to infiltrate the cult in order to investigate it closer... They found our Miss America back, that's right Emily is responsible for all of this!
Finally they venture to a cabin in Montana. Searching for some more infos regarding Cassie's father,
Dr. Jack Hack
, what they found is a story of strange serums injected to lab subjects to give some fake slasher/revenants proprieties and some feral children forgotten in the woods!
Overall:
Another solid volume!
The stories try to explore other tales than rather just simple slasher killers. And it all ties nicely into the whole "slasher" myth.
The Archie issue was a big hit with the fans. It might sound very stupid or even completely out-of-character for this series... but you know what? Sometimes it's fun to just go for something sweet and good and simple - to paraphrase Cassie.
A very solid and enjoyable read!
I give this one a: 2.5 / 3 Score!
Comic title: Hack/Slash Volume 5: Reanimation Games
Written by
Tim Seeley
Art by
Tim Seeley, Emily Stone & Matt Merhoff
Format:
Trade Paperback collecting issues #11–17 of the first
Hack/Slash
series and the
Hack/Slash Annual
.
Cassie is having some trouble keeping her mind off boys... or girls as well for that matter.
Our slashing duo goes after a one-eyed vigilante... is it a slasher?
Along the way, Cassie's been searching for clues regarding her father lately, trying to track him down thanks to a government list they found at the Montana cabin previously.
A creature from the "other realm" is sent after Cassie (following a plot left hanging from the first volume). The demon "dog"
Pooch
is looking for our heroine. Cassie sends Chris after the creature, by himself!
Next is the "Murder/Suicide" filler from the
Hack/Slash Annual
. A crossover with the internet pin-up website
SuicideGirls
.A virtual entity named
D1ab0liq
is slashing his way through these girls... (errr...ironic?)
Georgia is back! She found a role on this
Wizard of Oz
remake.
Poor Pooch is now trapped on Earth...so our couple Chris and Elisa have to take him in.
Finally - enters
Dr. Herbert West
! That's right, from
Re-Animator
!!!
Cassie's father
Jack Hack
used to work with West. Cassie's mom is also back,
Delilah Hack
aka
The Lunch Lady
!
We find out Jack was studying revenants for the government. Delilah's psycholoigcal profile matched previously known cases of slashers. Jack and Delilah fell in love. And that's how we got an heroine with a slasher mom and a mysterious father who disappeared.
But Cassie loses both her parents for a second time in the process...
In the end Cassie & Vlad and West go in separate directions.
Suits
come to look for West... the President's dead!! Setting off the eventual Re-Animator sequel that never got made.
Due to Pooch's failure to re-capture Cassie, the
Lords of Nef
send a female demon to Earth..
Overall:
This one was a fantastic volume from first to last page!
There was a crossover with the creator-owned
BUMP
series by Mark Kidwell on issues 12-13. But it was reprinted in this collection, they only kept the non-crossover pages from those.
All in all, it's a very fun book, Dr. West was well written and a great fit in the Hack/Slash world!
The series just gets better and better.
The SuicideGirls crossover was kinda dumb but fun.
I give this one a: 3 / 3 Score!
Comic title: Hack/Slash Volume 6: In Revenge and In Love
Written by
Tim Seeley
Art by
Tim Seeley, Ross A. Campbell, Mike Dimayuga, Kevin Mellon & Emily Stone
Format:
Trade Paperback collecting issues #18–23 of the first
Hack/Slash
series and the one-shot
Hack/Slash: Entry Wound
.
Cassie is back with Georgia, leaving Vlad alone for a while. But the little monster
Ashley
is back to invade our heroes' dreams....
Chris and Lisa are attacked by the Nef demon... thankfully noble Pooch is here to help courageously is new masters!
Cassie is blamed for all the murders of the past slashers. They link her past places she traveled to the killings, and she gets arrested.
A mysterious pumpkin mask-wearing guy enters the story.
Chris meets the new policewoman of the town,
Captain Reilly
.
14 years ago a young girl named
Cat
(a
Nancy Drew
-kind of young detective) was investigating mysterious rituals. The police didn't take her seriously, leaving the young girl following some clues all by herself which lead her to the mysterious
Black Lamp Society
.
Cassie is abducted and used as bait for the killer
Samhain
.. but he lets her go free and attacks the cult.
Chris launches the Hack/Slash Inc. database, a network tracking all their cases and slasher informations, in case that it ever can help other people someday.
Another return of a past slasher, none other than rockin' legend
Six Sixx
!
Finally the monster
Mary Shelley Lovecraft
, a sentient concept, attacks some superheroes in another realm of existence... causing several Holiday slashers to venture way too early. Cassie is seen facing a Groundhog Day-based slasher.
Overall:
Another pretty fun volume.
This one's probably the funniest so far, the stories might seem more light hearted, but still pretty much in tone with the usual.
There's never a bad issue so far, each dweling in different tropes and clichés of the genre and its various sub-genres.
Seeley's surely been having fun with all of it, deconstructing it with our pro-active victim and anti-heroine Cassie Hack!
That one-shot was an award winning issue!
The book is still the perfect slasher film we never got, as fans of the genre!
I give this one a: 2 / 3 Score!
Comic title: Hack/Slash Volume 7: New Blood Old Wounds
Written by
Tim Seeley & Jeffrey Brown
Art by
Tim Seeley, Bryan Baugh, Jeffrey Brown, Sean Dove, Daniel William Leister & Dan Parent
Format:
Trade Paperback collecting issues #24-28 of the first
Hack/Slash
series and the one-shot
Vlad and Cassie vs. Bloody Mary.
As our team leaves Georgia behind, they meet the mysterious Samhain. Is he another ally to be.. or a slasher?
Samhain requires our duo's force to help him save his friend
Dr. Ava Park
from the Black Lamp Society.
Turns out that cult worships the "black flame". And their whole order tie-in the whole slasher-thing. They call them "paladins" and have been using their blood for their rituals. It's also in Cassie's blood as she's from a paladin's lineage - giving yet another more mystic explanation for slashers after the whole revenant affair.
Sam doesn't feel pain...? Samhain is found out to be only a pawn himself, since he was a reprogrammed slasher. But thanks to Ava Park's love he was able to get his sould back.
Lisa is pregnant!
There's also the return of
Julian, the Mosaic Man
, another of Cassie's first "victim".
Finally our heroes return back to Haverhill in
Vlad and Cassie vs. Bloody Mary
by
Jeffrey Brown
.
The whole Archie-
esque
town has gone wrong. It's all due to Mary Shelley Lovecraft's influence, ruining the innocence of this innocent town in America.
Overall:
Another pretty fun and pretty solid entry in the series.
I love how the art go for the usual gritty Tim Seeley used us to, to more cartoonier stylized issues. And this volume's a perfect example how flexible the series is.
This volume is all about friends, allies, enemies and lovers!
We finally face the whole Black Lamp Society threat heads first.
Some T&A, some gore and all this done with a lot of heart.
I give this one a: 2.5 / 3 Score!
Comic title: Hack/Slash Volume 8: Super Sidekick Sleepover Slaughter
Written by
Tim Seeley
Art by
Tim Seeley, Daniel William Leister & various
Format:
Trade Paperback collecting issues #29-32 of the first
Hack/Slash
series and the one-shot
Hackoween.
This episode goes for something unusual for a change.
We are first introduced to several nerds who all came up with their very own superhero personas.
The story tells us about this duo
Nightmare
and
Sleepy
, old vigilante-type slasher slayers.
Through a tribute to old vintage comic book (with old 4-color dots and sepia tone) we get this allusion those two old heroes already faced the long-running threat of Samhain, going back further years back. Samhain's not only a immortal unkillable slasher apparently. He's also super old!
Decades later, those kids get to finally play superhero for real! What or Who is giving them superpowers?
It all goes back to a mysterious new slasher..
Finally Cassie is brought to this alternate universe with a cosmic threats. It's a game changing for Hack/Slash, but just proof at the end of the day, just point Cassie to the nearby monster. She'll get the issue dealt with. Bloody.
Overall:
This is the mandatory superhero volume! Long running comic books series always end up dealing with superheroes, one way or another. It's a tradition!
It was fun to see our heroes come to face with something other than just yet another monster-of-the-week.
It's kinda off putting at first, specially for this book. But it was particularly fun. I suppose the problem is that all these stories were cut short in order to bring an end to the series (at the moment). Or at least, Tim Seeley didn't want to bring in the big plotlines for these last issues, and instead opted for filler material.
You see, this was the last Hack/Slash... published by DDP. The last issue was #32.
Tim Seeley then took his creation since he retained all ownership and went somewhere else.
DDP had been going through some financial problems all these last couple months, with most of their staff, artists and writers unpaid for months.
So the series doesn't go out with a bang. Instead it momentarily closes on these non-slasher filler stories.
I give this one a: 1.5 / 3 Score!
Hack/Slash was then relaunched shortly after through Image.
First Seeley decided to take this occasion to explore an origin story for Cassie, retelling her first slasher as a mini-series. Which was followed by a second volume of the Hack/Slash series.
The series has gone on to become a huge hit in such short time. Playing with iconic monsters and bogeyman, Cassie has become a pop culture icon herself.
To this day, an Hack/Slash movie is still "in development to be a major motion picture" feature, as stated on most DDP trades. But to be frank, there hasn't been no concrete new development for years, they mostly kept that up for sales. There's been several directors attached to the project at one time or another... but for all the pre-production involved, nothing was greenlighted so far.
That's all for this time's Quickies!