It's coming up!
Christmas
is just around the corner, time to have a look at yet another one of these books!
For more of Jingle Belle's shenanigans check this other review!
Comic title: JINGLE Belle: The Fight Before Christmas
Written by
Paul Dini & Misty Lee
Illustrated by
Stephanie Gladden, Jose Garibaldi & J. Bone

Published by
Dark Horse Comics
From
2005
Lineup
Jingle Belle
Format:
One-shot special issue
Jingle Belle: The Fight Before Christmas
.
Jingle Belle
is the cartoony creation of famed comic book artist
Paul Dini
.
Imagined as
Saint Nick
's rebellious daughter, she is usually featured in annual adventures. She was first published through
Oni Press
starting in 1999 and is currently part of
Image Comics
'
Top Cow
in-print.
Past 2005 most of Jingle Belle's stories were release as one shots the following years, no more graphic novel or mini-series so far.
"The Fight Before Christmas" was published by
Dark Horse Comics
for Winter 2005.
This comic book contains three features, two main stories and then a short back-up feature at the end.
In the first tale, the self-titled "The Fight Before Christmas", we find our heroine Jingle Belle ducking it out with her friend/rival
Tashi Ounce
. Illustrated by cartoonist
Stephanie Gladden
, it follows Jingle Belle and the
North Pole Elves
participating in an hockey competition facing Tash's
Snow Leopards
. It's a sort of follow-up to the previous "Mighty Elves" story from a few years before. They keep attacking against each other, ending in the penalty box, allowing the actual teams to play for a change. But when they find out the other's current boyfriend sounds a lot like their own.. they rivality takes over... This main feature is very cartoony, kinda reminiscent of old
Animaniacs
cartoons. I really loved Stephanie Gladden's lovely artwork, her character's expressions are priceless!
Then, we have "Hot Rod Lemming". This one is written by Paul Dini &
Misty Lee
- M. Dini's magician wife! - and drawn by returning artist
Jose Garibaldi
. Romance comes to the North Pole in this little tale of love - amongst the lemmings!
Len Lemming
is an awkward shy lil' lemming who is trying really hard to impress
Lulu
, another lemming. Jing' decides to help out the little guy and steels Santa's newest toy, a vintage collection car model, a new toy Corvette! But will this get Len into trouble..?! It's a funny little warm-hearted tale with absolutely stunning art! I already was a huge fan of Garibaldi's cart in the previous Jingle Belle book, but this time it looks even better!
Those are followed by "Oh, Christmas Tree", the final feature. Long time Jingle Belle artist
J. Bone
returns to the series with this short back-up story. It's a little satirical story set in
Washington D.C.
Santa's family visit the capital and meet the current American president (I wonder who
*
that is supposed to be *wink wink* heh..). It's a pretty random story that doesn't go anywhere, Jingle Belle causing some mischief at the expense of some goofy president. Fun, short and random.
And that is it for this new Jingle Belle one-shot!
The tone is definitively silly and cartoony. It presents a good amount of Jingle Belle stories of different kind of tones.

Overall, it's another fun entry in the Jingle Belle series!
Works perfectly fine as a standalone introduction to the character, although some references here and there are made to past stories.
J. Bone's feature is pretty random and not that much Christmas-y, but all in all they're all great and present each a facet of Jingle Belle - her rebellious attitude, her "celebrity daughter" persona and her good intentioned aspect.
Recommended Christmas read!
I give it: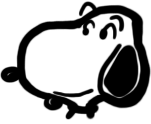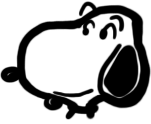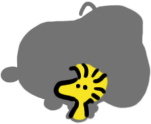 2.5
/ 3 Snoopys
!