Time for another All-Ages comic book title!
For more of Jingle Belle's shenanigans check this other review!
Comic title: Jingle Belle: Gift Wrapped
Written by
Paul Dini
Illustrated by
Stephanie Gladden

Published by
Top Cow/Image Comics
From
2010-11
Lineup
Paul Dini's Jingle Belle series
Format:
One-shot special issue reprinting the Jingle Belle material from the
2010 Top Cow Holiday Special
along new original content.
Jingle Belle
is the cartoony creation of famed comic book artist
Paul Dini
.
Imagined as the rebellious daughter of
Kris Kringle
(the ol'
Saint Nick)
, she is usually featured in annual adventures. She was first published through
Oni Press
starting in 1999 and then briefly at
Dark Horse Comics
.
Past 2005 most of Jingle Belle's stories were release as one shots through
Top Cow
/
Image Comics
, no more new Graphic Novel or Mini-Series were produced anymore (thus far).
Originally after 2 one-shot crossovers from the previous years, a new Graphic Novel volume was announced for December 2010. But for reasons unknown, it was scrapped in production and removed from the schedule.
Part of its content - the "
Jingle Belle: Grounded
" short story - made it into the
Top Cow Holiday Special
from that same year.
Jingle Belle: Gift Wrapped
is a December 2011 one-shot that combines Grounded along four new "stories" - about six additional pages of brand new content.
A web of lies has caused some trouble at the Kringles, and
Christmas
' coming up!
So
Queen Mirabelle
(AKA Mrs. Claus) decided to call in for some external help. Santa's old sidekick, the demon
Krampus
!
Mirabelle asks for Krampus' impartiality and judgment, so they can finally settle down.
Jingle Belle's angry at the old Saint Nick because he stole a toy idea without giving her any credit - and now that toy's all the rage with children all across the world!
And Santa is angry at Jing for having used her toy-making skills to make a robot of herself work instead of her around the North Pole shop while she was hiding out in the sun, in South Padre Island with her friend
Ida
.
Finally, Krampus sets the punishment... there will be no Christmas this year, both are grounded this Holiday Season... that is.. if they can't forgive each other!
Jingle Belle: Gift Wrapped reprints the
Harvey Award
-nominated story Grounded, wrapped around the new content.
That is, new additional flashback and epilogue scenes. Kind of making this the definitive version of Grounded.
The art by now-regular Jingle Belle artist
Stephanie Gladden
is absolutely gorgeous! Cartoony, very expressive and lively.
Paul Dini once more write a pretty fun unusual but very fun Christmas tale.
The colors of the original Grounded segment were done by
Felix Serrano
, while the new content was colored by
Tom Feister
. It's barely noticeable, and all very colorful and fun.
My only complaint, if I'd have one, would be that the new material was kinda off-lettered. The new police font barely matching the original.. I wonder why? It's a bit distracting since it's so different...

Overall, a highly-recommended read, for everyone to enjoy!
Jingle Belle continues to be a great new readers-friendly and all-ages title!
Funny, colorful, always original and playing with all Holidays and Christmas conventions in fun new adventures. A great read for younger and older comic book readers alike!
Paul Dini's Jingle Belle series continues to produce quality humor books, year after year! A must!
I give it: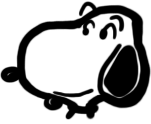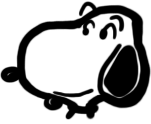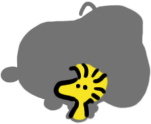 2.5
/ 3 Snoopys
!