I haven't been feeling super great lately. So let's take a look back at another
Christmas
special in the middle of a very hot summer to change our ideas.
For more of Jingle Belle's shenanigans check this other review!
Comic title: Jingle Belle: DASH AWAY ALL
Written by
Paul Dini
Illustrated by
Jose Garibaldi
"Oy, Chanukah" bonus story co-written by
David Mandel
Online comic strips illustrated by
Steve Rolston
Published by
Oni Press
From
2003
Lineup
Jingle Belle
Format:
Digest-sized graphic novel
Time to celebrate Christmas with another batch of
Jingle Belle
stories!
It has become sort of an annual tradition from
Oni Press
.
After several one shots and issues (most collected in the form of trade paperbacks), this is it! The first big Jingle Belle story from
Paul Dini
! Jing's first original graphic novel!
With several characters introduced and established in the past already, this first feature length tale tells one big adventure that will take Santa's little daughter all across the globe! Will she be able to save Christmas on time??
It was shaping to be yet another pretty boring traditional Christmas for Jingle Belle,
Santa Claus
(aka Saint Nick)'s rebellious teenage daughter.
When suddenly Santa's arch nemesis,
the Blizzard Wizard
, attacked the old Nick with the help from his niece,
Heidi Hoarfrost
!
Now Santa Claus and his reindeers are all stuck in bed with a cold.
It's up to Jing and her crew to take on the family's job all by themselves, be prepared on time to run around the world and save the holidays, one gift at the time.
But it appears there's an insider from the Bliz Wiz amongst her midst. At least she can count on her pals
Eddie
,
Rusty
, a bunch of pets and a a narcissistic narwhal!
With special guest cameo appearance by other Paul Dini cult classic characters
Polly Green
,
Tashi Ounce
and even Sheriff
Ida Red
!
Jingle Belle DASH AWAY ALL is a very fun all-ages Christmas story! With great characters, lots of humor and original enough to not be like your usual Xmas tale.
It is beautifully illustrated by cartoonist
Jose Garibaldi
.Garibaldi would again contribute some more art for future Jingle Belle projects later on.
The book also collects an extra bonus story "Oy, Chanukah", celebrating the other December holiday! Also drawn by Jose Garibaldi. It was co-plotted by writer
David Mandel
(
Seinfeld
,
Clerks
animated).
And finally, DASH AWAY ALL also reprints some webstories from
jinglebelle.com
drawn by
Steve Rolston
.

Overall, another solid comic!
Really fun. Jose Garibaldi artstyle is full of energy and perfect for this book!
I truly recommend this book for any Jingle Belle fan, comic book enthusiast or even young readers.
It is the perfect starting point, you can perfectly enjoy this read without any prior knowledge of any of these characters!
I give it: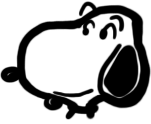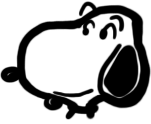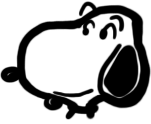 3
/ 3 Snoopys
!