It's Christmas again (no it's not..), let's celebrate it (???) with another Christmas Special!
Okay, I just wanted to review this one.
For more of Jingle Belle's shenanigans check this other review!
Comic title: Paul Dini's Jingle Belle: Santa Claus Vs. Frankenstein
Written by
Paul Dini
Illustrated by
Stephanie Gladden

Published by
Top Cow/Image Comics
From
2008
Lineup
Paul Dini's Jingle Belle series
Format:
One-shot special issue
Jingle Belle: Santa Claus Vs. Frankenstein
.
Jingle Belle
is the cartoony creation of famed comic book artist
Paul Dini
.
Imagined as
Kris Kringle
(the ol'
Saint Nick)'
s rebellious daughter, she is usually featured in annual adventures. She was first published through
Oni Press
starting in 1999 and then briefly at
Dark Horse Comics
.
Past 2005 most of Jingle Belle's stories were release as one shots the following years, no more graphic novel or mini-series were produced anymore (thus far).
2007 didn't saw any new Jingle Belle material released. The reason was that Dini moved his creator-owned original creations to another publisher, at
Image Comics
!
Jingle Belle: Santa Claus Vs. Frankenstein
launched the creation of the "
Dinicartoons
" under the Top Cow imprint in 2008, which would see other Dini creations under the same banner but also the occasion to launch some of Paul Dini's fellow animator friends and young aspiring artists.
As the title implies, pretty straightforward if you ask me, this new Winter 2008 one-shot sees a crossover between Santa Claus and, well,
Mary Shelley
's beloved creation.
Christmas was coming, as usual, like clockwork. But there's a problem this year!
You see an anti-Santa movement has been launched in the not-so-quiet town of
Autumn Falls
,
Massachusetts
. That's the home of another of Paul Dini's characters by the way, Jingle Belle's friend
Polly Green
, the
Halloween Witch
!
Santa banned from giving toys to children?!
Even the old Saint Nick's not really feeling it this year, and he saw a lot of troubles over the centuries. But this, in this day and age, might be the end of his career... In a world of political correctness, the idea of Santa Claus just doesn't have much place anymore...
Meanwhile, Jing' slacking off some work as usual goes snowboarding in the nearby mountains.. and finds out the
Frankenstein's monster
, frozen deep beneath the ice! If you are any familiar with the original classic, that is where the old creature went to be forgotten. In the Arctic, never to be found anymore...!
Frankie turns out to be a really sweet guy. Jingle Belle finds him some work at
Santa's Workshop
. He really has a crack for making toys actually (albeit.. a bit too creepy for Santa's taste... but I'm sure they will be quite popular with kids these days!)
While Frankie discovers how popular he has become over the years, so much films and merchandising - he's far from being the feared horrible creature he once was, the anti-Santa only grows stronger with the public.
Frankie decides he has to put a stop to it to repay the kindness of the Kringles!
How will all of this end?
It turns out, with a crossover fight like comics are so used to. But a very short funny one, nothing too serious.
For once, Santa's daughter takes a backseat to let Paul Dini's little world breath a little. We get to see a bit more of Santa, which doesn't happen often actually. The old man fearing our modern day and age. It's a nice lil' "update" to the character.
This incarnation of the Frankenstein's monster is a bit cartoonier and more modern than usual, compared to, say, the one appearing along
Eva
in
Army of Darkness
or
Hack/Slash
, but perhaps a bit closer to the original book version rather than the Universal films one.
All in all, Dini writes her a very fun short story.
The art is really great.
Stephanie Gladden
actually took over as the "official" main Jingle Belle artist (for now). Her Jingle Belle is a bit curvier but cartoonier than Stephen DeStefano's. Very Paul Dini/Bruce Timm-esque if you ask me. Stephanie Gladden &
Felix Serrano
did an outstanding work!
Finally since this book marks the launch of the Dinicartoons, the issue also comes with an announcement word from Paul Dini himself regarding this new line-up. Plus it reprints two previous web-exclusive comic strips drawn by
David Alvarez
and
Laurie B
. Both fit really well Jingle Belle and I hope this "sampling" means Dini might bring them back in the future.

Overall, a really nice all-ages title, recommended for anyone that likes to enjoy a good fun read.
The random crossover makes this one-shot feel like a Christmas/Halloween Special combined!
This issue marked the launch of the Dinicartoons line of comics. And if the rest is simply half as good as this, it will be really good!
A funny, albeit a bit random, "funny book". Check it out!
I give it: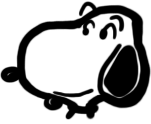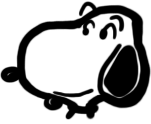 2
/ 3 Snoopys
!