Today let's have a look at the obscure "Hack/Slash Meets Zombies Vs Cheerleaders" crossover (which was also collected in the Hack/Slash: Omnibus Vol. 4)
And as the cover implies, it's Vlad-approved, so you know you're in for a threat!
The monsters lurk Withing The Woods, read these reviews or you'll be Dead by Dawn!

Comic title: Hack/Slash Meets Zombies Vs Cheerleaders
Art by
Ben Glendenning
Story by
Steven L. Frank
Published by
Moonstone
From
2011
Lineup
Hack/Slash series/Zombies Vs Cheerleaders series
Format:
One shot issue
Hack/Slash Meets Zombies Vs Cheerleaders
#1.
Here's something nobody would expect to see. But let me tell you right away, what you'll find in these pages is exactly what is advertised under this pretty silly long name.
What hides beneath this curious title is a fun little indie zombie comic. A fun cartoony indie-style comic.
Zombies Vs Cheerleaders
was originally launched from a trading card collection by from
5FINITY Productions
. These cards quickly turned collector as various artists illustrated this random mix that seemed to work so well on the paper:
Zombies
! And
Cheerleaders
!
It was soon turned into this funny silly little mindless series, with writer
Steven L. Frank
teaming up with several artists on these short stories including the aforementioned
Benjamin Glendenning
, and
Jessica Hickman
,
Frankie B Washington
and
David Namisato
. Zombies Vs Cheerleaders is pure silly and pretty cheesy. The style is definitively cartoony and fun, with pin-up-ysh style art. The series never it much mainstream, but it was definitively a silly indie comic with pretty fun art. It's good, plays with a lot of zombie tropes and is made in pure B-movie style.
Of course, one could imagine just how easily and seamlessly that could get some well deserved attention if you throw in there in the mix
Cassie
and
Vlad
.
Hack/Slash
is of course
the hit horror series
Tim Seeley
started at
DDP
before moving out to
Image Comics
with it. This crossover was actually published back when he was able to get the rights to Hack/Slash back from DDP. The Hack/Slash series follows this unusual duo of anti-heroes as they bash their way through all these revived monsters all over the states, in pure tradition of old slasher flickers and as a tribute to these horror films from the 1980s.
This
crossover
seemed like a great way to share some of Hack/Slash's fame with this underappreciated little series.
In fact
Moonstone
even published Hack/Slash Meets Zombies Vs Cheerleaders. The Zombies Vs Cheerleaders series is usually a pretty good example of a self-published (smaller company) independent title. And this book is no different - it does not contain a single ad!
Our story begins as Cassie and Vlad arrive at the
Washington State high school
.
There's been lots of disappearances lately, several students have gone missing in the premises of the school. They decide to mix in with the locals, it's the best way to locate where the trouble is coming from.
Cassie wants to investigate undercover, so both enlist at the school (pretty easily I might add).
While Cassie's forced to sort of join the
cheerleading
troupe, Vlad end up joining the
footaball
team!
Soon they find out some pretty strange things were happening beneath the school...
And these cheerleaders can really kick ass!
Really, what's more to ask?
It's a comic that says it all from the title alone!
The story is pretty fun. Steven L. Frank really seems to be having fun with this book.
The characters (more precisely, the cheerleaders) break the fourth wall several times.
It's a pretty simple and effective way to mesh both series. Cassie already enrolled in several schools during her own series.
While looking into what could be suspicious slasher activity, they instead find revived corpses attacking people at night near the school. We even get a couple of heart-warming moments - Vlad never got the occasion to actually go to school. (and while I couldn't imagine this happening in the main series, it's easy to let it go in such fun silly cartoony adventure)
It just sort of runs out of pages at the end and stops right there...
Ben Glendenning is fun and effective. While it might appear a bit amateurish at times, it works pretty well. It's such a fun cartoony indie comic!
Several alternate covers
were printed at the time. There one from Tim Seeley,
Mike DeBalfo
,
Dominic Marco
and Benjamin Glendenning. Personally I've always been more partial to Tim Seeley's.

Overall, it's a pretty fun silly random comic,
Well Worth a Look
if you're a fan of either series, or just zombie-comedies in general!
It's not spectacular nor either a must read. Just a fun title - I know I keep repeated this through the review, but it's what it is!
Really enjoyable. It feels a bit too short. Check it out!
I give it: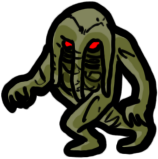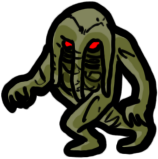 2
/ 3 ManThings!